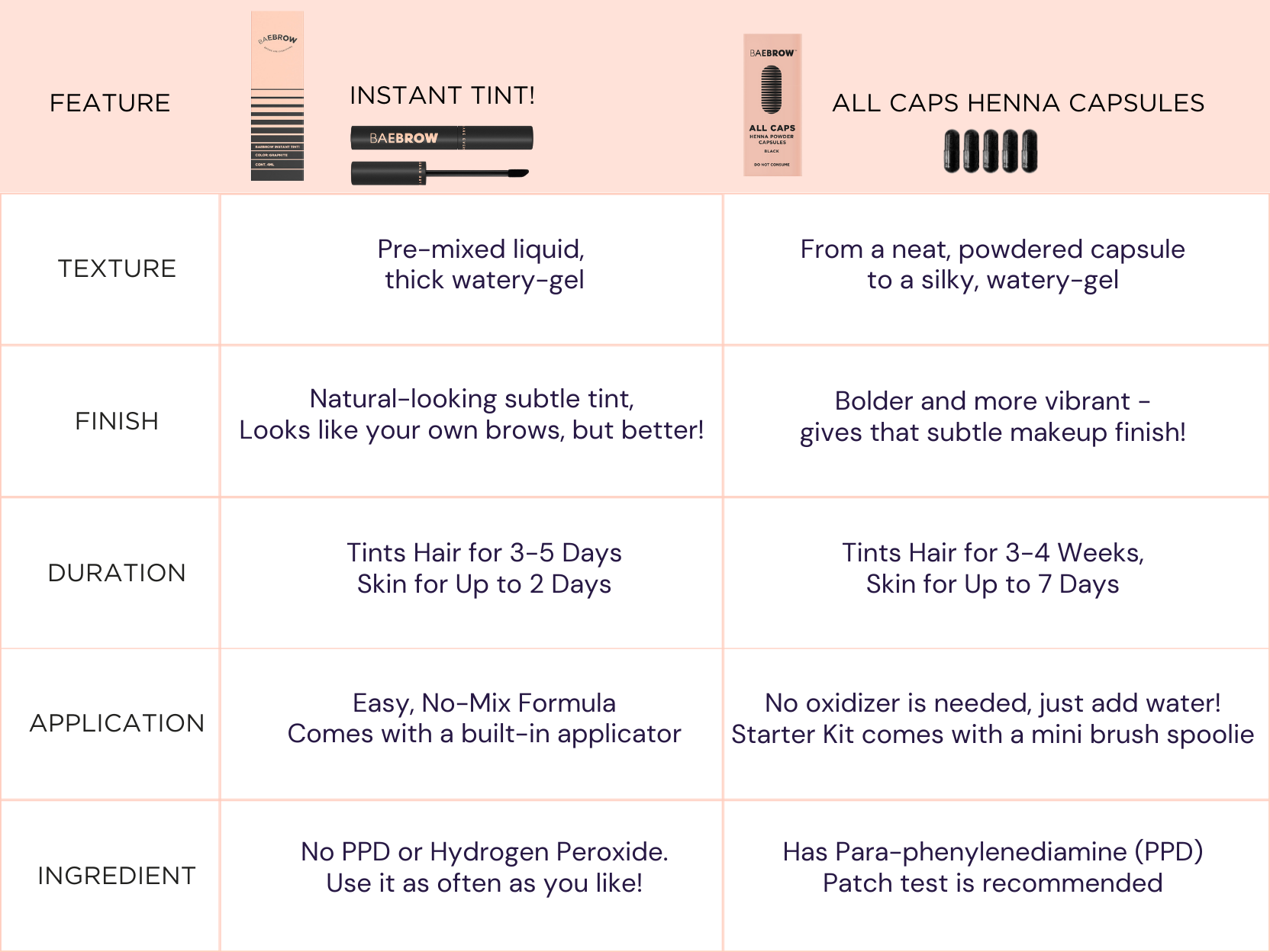 ALL CAPS - Powder Henna Capsules
Sale price

$ 442.00
Regular price
(/)
Introducing ALL CAPS, an extraordinary innovation in brow beauty that takes brow tinting to the next level! Say hello to an unparalleled, lasting look that will leave you with beautifully defined brows for up to four weeks! We recommend buying the kit first instead of just capsules so that it makes the experience easier! 

ALL CAPS is a product designed for eyebrow tinting, crafted with top-grade henna for lasting results - color stays on the brow for up to 4 weeks, and for about 1 week on your skin, depending on your skin and hair type. Always make sure to do a patch test first as our innovative henna contains PPD (Para-Phenylenediamine) which for some can be an irritant.

What sets ALL CAPS apart?
- The world's first blister-packed henna capsules! Our innovative packaging keeps your henna fresh and potent for longer.
- No need for any developer or extra oxidizing agents - just add water, mix, and get ready to transform your brows with an effortless application!
Colors

Do ALL CAPS Henna Capsules cover gray hair?
Yes, it does! The darker colors are more effective at covering grays than the lighter colors.

Important Note: If your brow color is darker than the chosen shade, the tint may not be as noticeable. For the best results, pick a shade that matches your current brow color. Avoid selecting a lighter shade.

From dark brunettes to light blondes, ALL CAPS is designed for all, with a shade to match every hair type and skin tone.

Darker shades offer a more filled-in shape, while lighter hues stay on the skin for less time. Whatever you choose, rest assured - your color will stay radiant and natural for weeks!

OUR RECOMMENDATIONS:
Light Brown - Light blondes. Neutral-warm tones.
Medium Brown - Light-medium blondes. Cold & warm tones.
Auburn - Light-medium red hair, warm blondes. Warm tones.
Ash Brown - Medium-dark brunettes, dark blondes, ash blondes, or light blondes with dark roots. Cold tones.
Dark Brown - Medium-dark brunettes, dark blondes, or light blondes with dark roots. Warm & cold tones.
Black - Dark brunettes, black hair, or dark roots. Looks black, or very dark brown. Cold & Warm tones.

Don't wait. Grab your ALL CAPS now, and embark on an incredible brow transformation journey that you will never forget. Ready, set, WOW!
Ingredients

Henna Powder, Amla Powder, Shikakai Powder, Para Phenylenediamine, Para Aminophenol, Calcium Dioxide, Tartaric Acid, Magnesium Carbonate, Sodium Sulfite, and Soap Stone.
ALL CAPS - Powder Henna Capsules
Sale price

$ 442.00
Regular price
Choose options