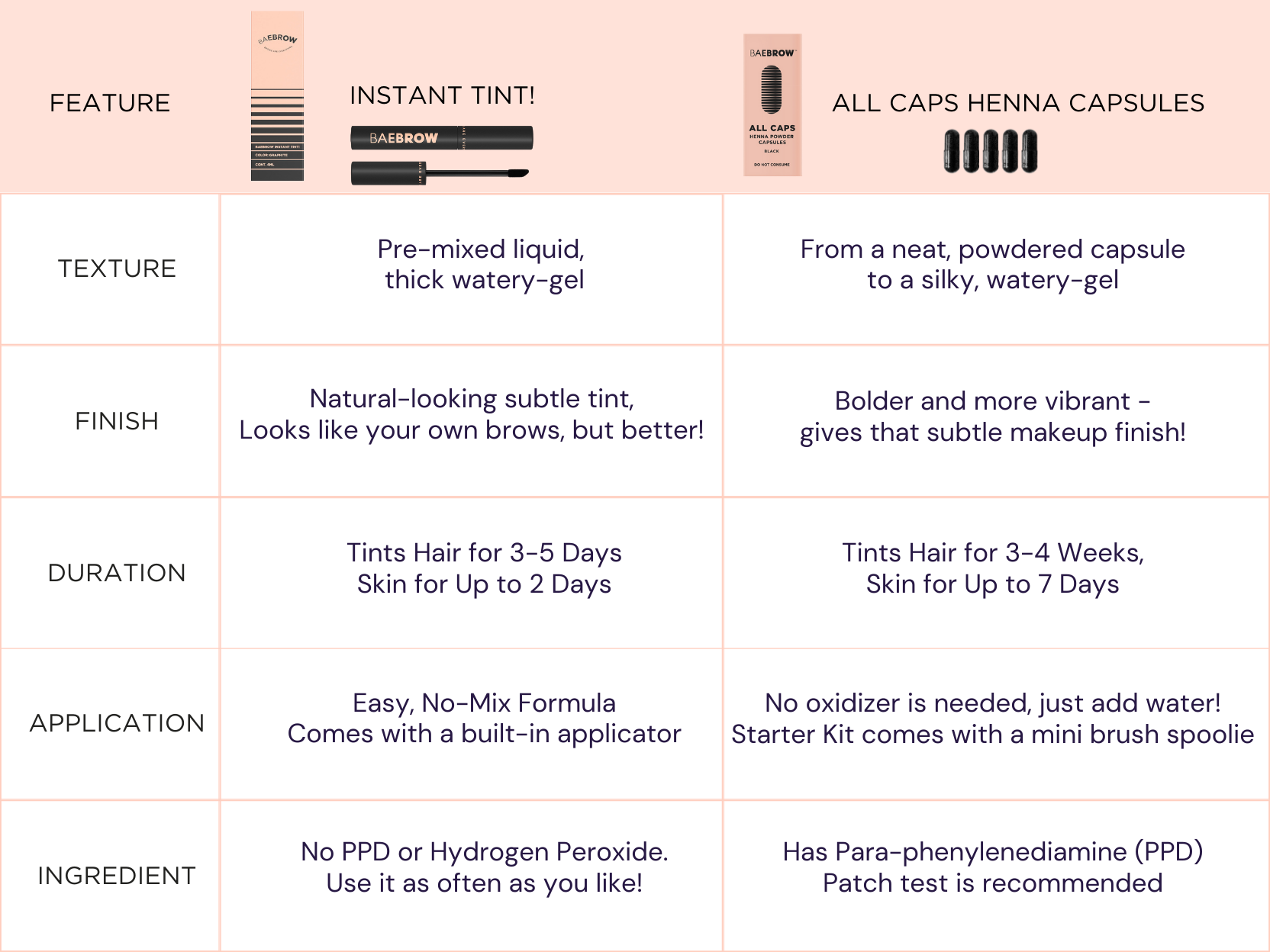 Henna & Hold PLUS
Sale price
$65.00
Regular price
$70.00
(/)
Introducing HENNA & HOLD PLUS - your secret to bolder, healthier, and perfectly-sculpted brows! This bundle offers the perfect blend of natural tinting and nourishing styling. 

Our ALL CAPS Henna Capsules offer you a striking, natural brow tint that lasts for up to 4 weeks on brow hair and a week on your skin. Packed with 5 capsules per box, we've made brow tinting simple and seamless!

HOLD UP! PLUS Brow Styling Wax: More than just a styling wax, this fragrance-free brow wax nourishes while setting your brows up. Infused with Biotinoyl Tripeptide-1, HOLD UP! PLUS promotes fuller and healthier brows over time. Achieve the desired feathery look without any stiffness or stickiness, thanks to our non-sticky formula.

With every tool you'll need included in this bundle, you're all set to design your perfect brows:

ALL CAPS Henna Capsules
HOLD UP! PLUS Brow Styling Wax
Dual Angled Brush
Pipette
Mini Finger Swiper 
Directions
ALL CAPS Henna Capsules
1. We recommend starting with a patch test to ensure you're not allergic to henna or PPD. Apply a tiny amount of the mixed product on a small area of your skin (inside of below) and wait for 24 hours. If there are no signs of irritation, you're good to go! Learn more about patch testing.
2. Before you begin, make sure your brows are clean, dry, and oil-free. This will help the tint to adhere better and give you that stunning transformation.
3.Open the ALL CAPS henna capsule with a gentle twist and pour the powder into any small dish (a shot glass works well). Add approx. 4-8 drops of water using the pipette and stir with the provided brush until you achieve a wet paste consistency. (Check the YouTube video below for your reference.)
4. Apply an even layer of the paste onto your brows in the shape you desire. Remember to work quickly - don't let the open henna powder or paste sit unused for too long.
5. Wait for approximately 10 minutes to let the henna do its magic.
6. Dampen the mini swiper with water, gently press on your brows for a few moments to moisten them and then using delicate strokes outwards, wipe away the tint from your brows. Welcome your beautiful, transformed brows. Remember to be careful not to stain light-colored items around you.
HOLD UP! PLUS Brow Styling Wax
1. Use the spoolie brush to apply a small amount of product. A little goes a long way.
2. Always apply onto clean brows, to avoid any residue.
3. Brush through your brows using upward and outward motions and gently press into your brow to flatten the hairs for a polished look.
4. To maintain the best product quality, the cap must remain tightly closed at all times when not in use.
5. Keep your spoolie brush clean to avoid any residue in future use. Washing with soap and water does the trick! ;) Make sure to only wet the spoolie part to keep your brush from getting damaged. 
6. Clean the brush after use with water and soap to avoid buildup on the spoolie
Ingredients
ALL CAPS Henna Capsules: Henna Powder, Amla Powder, Shikakai Powder, Para Phenylenediamine, Para Aminophenol, Calcium Dioxide, Tartaric Acid, Magnesium Carbonate, Sodium Sulfite, and Soap Stone.
HOLD UP! Brow Styling Wax: Aqua, Steareth-21, Glycerin, PVP, Panthenol, Biotinoyl Tripeptide-1, Phenoxyethanol, Ethylhexylglycerin
Colors
From dark brunettes to light blondes, ALL CAPS is designed for all, with a shade to match every hair type and skin tone.
Darker shades offer a more filled-in shape, while lighter hues stay on the skin for less time. Whatever you choose, rest assured - your color will stay radiant and natural for weeks!

OUR RECOMMENDATIONS:
Light Brown - Light blondes. Neutral-warm tones.
Medium Brown - Light-medium blondes. Cold & warm tones.
Auburn - Light-medium red hair, warm blondes. Warm tones.
Ash Brown -  Medium-dark brunettes, dark blondes, ash blondes, or light blondes with dark roots. Cold tones.
Dark Brown - Medium-dark brunettes, dark blondes, or light blondes with dark roots. Warm & cold tones.
Black - Dark brunettes, black hair, or dark roots. Looks black, or very dark brown. Cold & Warm tones.
Henna & Hold PLUS
Sale price
$65.00
Regular price
$70.00
Choose options