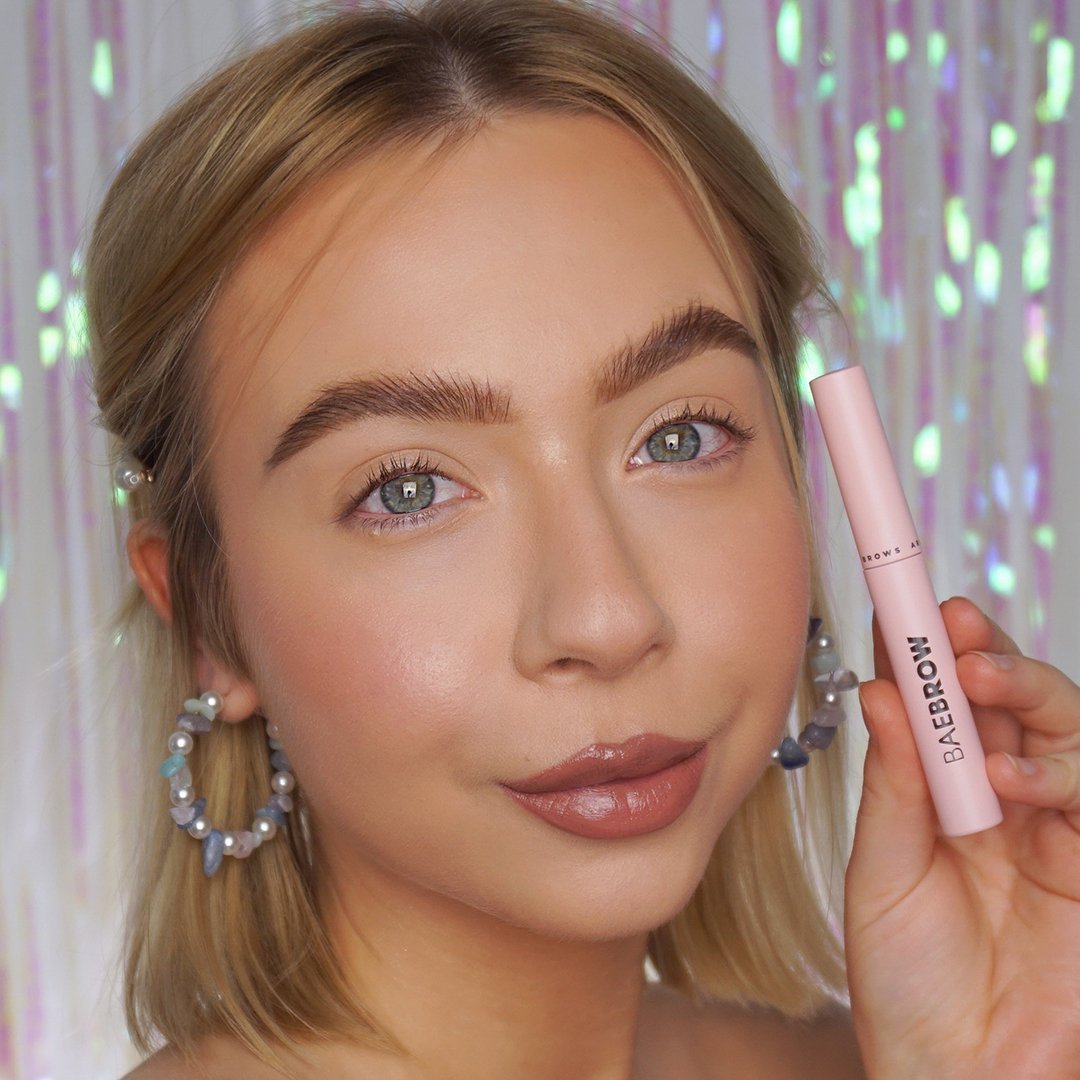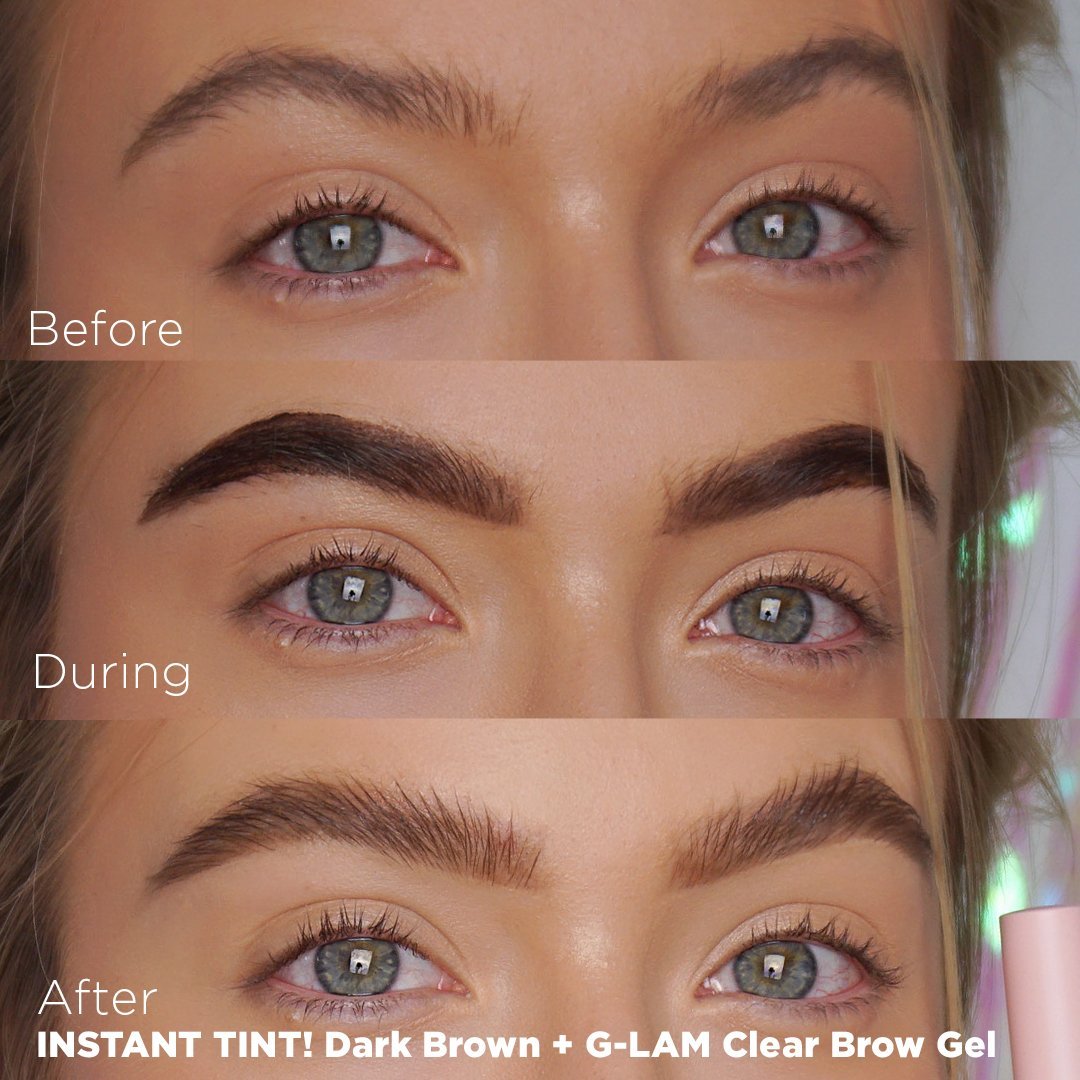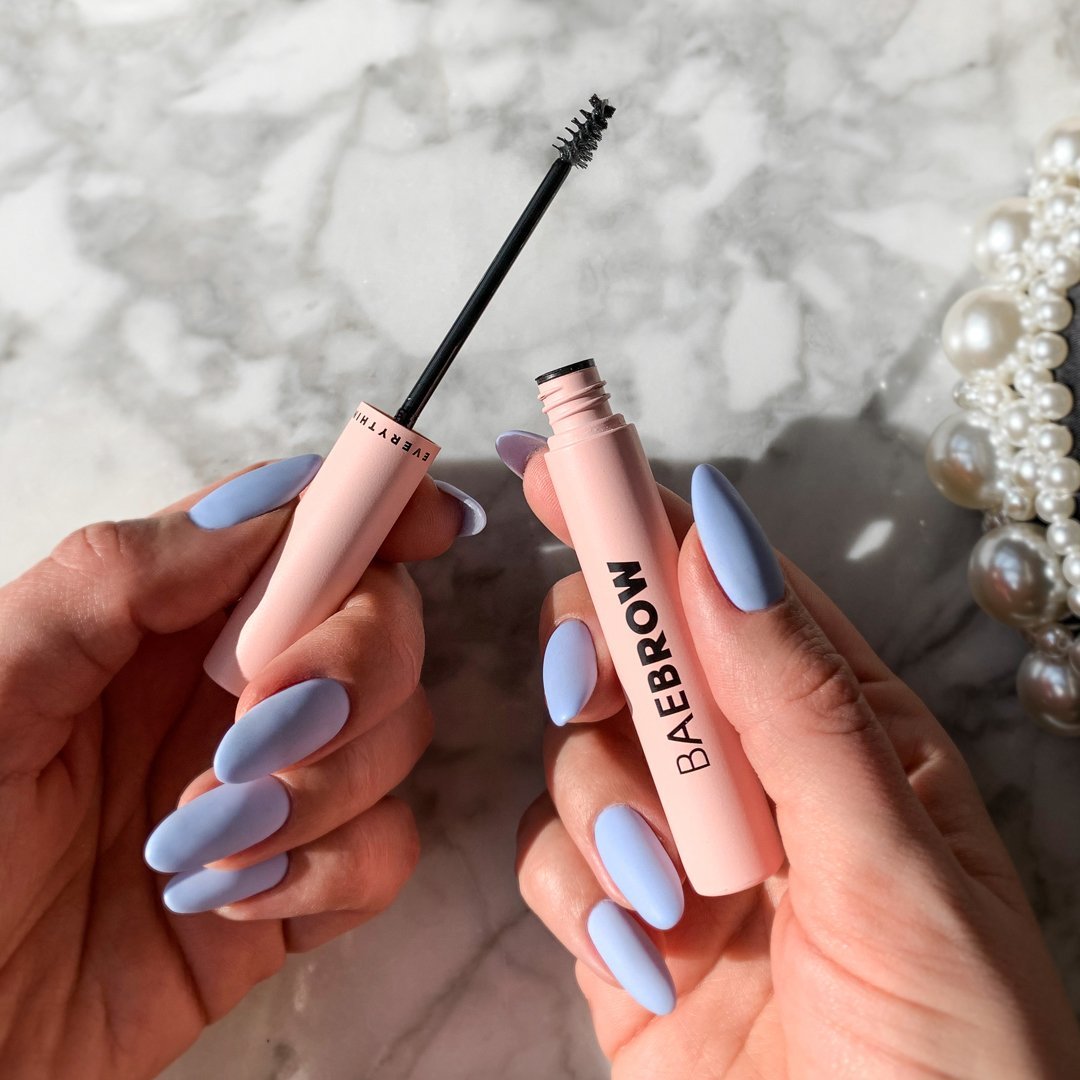 Tint + Hold Bundle
Sale price

75.00 лв
Regular price
(/)
The hottest eyebrow look? Natural, bold, feathery brows! Reach for INSTANT TINT! to add some oomph to your brows, then use G-LAM to set them in place. 

INSTANT TINT! is BAEBROW's flagship, the no-mix formula for easy and quick eyebrow tinting. Simply apply, wait about 10 minutes, and remove! Don't forget to select your shade from Brown, Dark Brown, Graphite, and Black. We recommend trying a two-tint bundle for a customized, longer-lasting effect. 
G-LAM Clear Brow Gel is our new favorite. This strong-hold and fast drying brow setter will keep your brows looking G-LAMourous all day long. Use it as a top coat and the final step in your brow routine. Start at the base and apply short upward and outward strokes to lift and sculpt your brows.
Testimonials
"I had never used eyebrow tint before and I was a bit nervous about buying it but I'm so glad I did. I've got very light blond eyebrows and without my pencil on they are invisible. After using this product I love looking at myself in the mirror esp in the morning or without make-up on. So worth the money. And it doesn't come out too dark brown unlike some professionally done tint in the salons. Very happy with the product." - T. Alvino

"This is hassle-free and makes my routine insanely easier. I tint them on a Sunday night so they are ready for the week ahead. I love this stuff! Will be buying again." -Christina
See more testimonials here 
How to Use

TINT

Bolder, shinier brows only 4 easy steps away, ready?

Step 1: Wash eyebrows with a non-oily cleanser and dry completely.

Step 2: Apply INSTANT TINT! onto clean eyebrows, generously covering the full length of brow hairs.

Step 3: Keep INSTANT TINT! on eyebrows for about 10 minutes. Leave on up to 20 minutes for a bolder effect.

Step 4: Wipe off in the direction of hair growth using damp cotton wool or our reusable remover pads. Rinse with water if needed.

Enjoy your fresh, awesome brows!

Results may vary based on skin and hair type. Effects last from 3-5 days up to a week.

G-Lam

To achieve lift and volume apply G-LAM onto brows using upward strokes. For thicker, unruly brows apply a little more product, with a few extra pressing, upward motions for extra hold. G-LAM delivers a strong hold finish and should be the last step in your brow routine. Once the gel has dried on the eyebrows do not apply anything over it or brush the brows.
Colors

"What INSTANT TINT! color do I choose?" No worries, here is our guide to selecting your shade :) Keep in mind that INSTANT TINT is a gentle formula and the effects are very natural.

LIGHT BROWN -Tailored for the fairest of blondes, this tint boasts neutral undertones for a remarkably subtle transformation. Ideal for those with very light blonde hair, this tint offers a barely-there enhancement that's virtually seamless. Please note that it is specifically formulated for very light hair and may not produce noticeable results on darker hair shades.
BROWN - A neutral tone suitable for light blonde and light brunettes. This is our most delicate tint. Not recommended to cover grey or translucent hairs.

DARK BROWN - A neutral-toned dark brown suitable for blondes and most light-medium brunettes. If your hair is already dark or medium brown, then getting a darker tone is recommended like the Dark Brown + Black bundle below. Suitable for all skin types.

BLACK - If you have dark brown or black hair this is a suitable color. A universal favorite that darkens hair to a dark, bold tone. if your hair is light and you're looking for a bold, more dramatic effect, we won't stand in your way ;) Suitable for all skin types.

GRAPHITE - An ashy grey/black color - suitable for cold-toned dark hair, cold-toned blondes, and light-medium skin types. (but not if your brows are translucent*). A universal favorite that darkens hair to a dark colder tone. *If you have very light blonde or very light brown hair - the two tint combo pack with Dark Brown will give you a more natural result. If your natural brow hair color is very light blonde, white or even translucent (non-pigmented) we do not recommend the graphite on its own, as it can pick up the undertone colors and look unnatural.

Two Tint Bundles allow you to mix the colors to achieve the tone that suits you best with warmth and intensity of color. SAVE extra with these options! We recommend always applying the Dark Brown first.

DARK BROWN + BLACK - Most popular option. Ability to control the intensity of a darker brown tone. The Dark Brown on its own may be too light for some, so adding black will let you darken it to your desired intensity. Suitable for all skin types.

DARK BROWN + GRAPHITE - Ability to darken the Dark Brown and achieve a colder tone. Fitting option for cold-toned dark blondes. Suitable for light-medium skin types.

Not sure? Check the color chart or chat with us directly here and we will help you figure out what color is best!

Still not convinced? Check out our testimonials page here
Ingredients

INSTANT TINT! Light Brown - Ingredients:

Aqua, Cetearyl Alcohol, Stearic Acid, Palmitic Acid, Glyceryl Stearate SE, Basic Brown 16, Glycerin, Isopropyl Myristate, Ceteareth-20, Dimethicone, HC Blue No 2, Basic Blue 75, Myristic Acid, Lauric Acid, Oleic Acid, Phenoxyethanol, Methylparaben, Ethylparaben, Argania Spinosa Kernel Oil, Triethanolamine, Basic Violet 16, Silica, Talc.

INSTANT TINT! Brown - Ingredients:

Aqua, Cetearyl Alcohol, Stearic Acid, Palmitic Acid, Glyceryl Stearate SE, Basic Brown 16, Glycerin, Isopropyl Myristate, Ceteareth-20, Dimethicone, HC Blue No 2, Basic Blue 75, Myristic Acid, Lauric Acid, Oleic Acid, Phenoxyethanol, Methylparaben, Ethylparaben, Argania Spinosa Kernel Oil, Triethanolamine, Basic Violet 16, Silica, Talc.

INSTANT TINT! Dark Brown - Ingredients:

Aqua, Cetearyl Alcohol, Stearic Acid, Palmitic Acid, Glyceryl Stearate SE, Basic Brown 16, Glycerin, Isopropyl Myristate, Ceteareth-20, Dimethicone, HC Blue No 2, Basic Blue 75, Myristic Acid, Lauric Acid, Oleic Acid, Phenoxyethanol, Methylparaben, Ethylparaben, Argania Spinosa Kernel Oil, Triethanolamine, Basic Violet 16, Silica, Talc.

INSTANT TINT! Graphite - Ingredients:

Aqua, Cetearyl Alcohol, Stearic Acid, Palmitic Acid, Glyceryl Stearate SE, HC Blue No 2, Glycerin, Isopropyl Myristate, Ceteareth-20, Dimethicone, Basic Brown 16, Basic Blue 75, Basic Red 51, Basic Orange 31, Basic Violet 16, 4-Hydroxypropylamino-3-Nitrophenol, Myristic Acid, Lauric Acid, Oleic Acid, Argania Spinosa Kernel Oil, Triethanolamine, Silica, Talc, Phenoxyethanol, Methylparaben, Ethylparaben.

INSTANT TINT! Black - Ingredients:

Aqua, Cetearyl Alcohol, Stearic Acid, Palmitic Acid, Glyceryl Stearate SE, HC Blue No 2, Glycerin, Isopropyl Myristate, Ceteareth-20, Dimethicone, Basic Brown 16, Basic Blue 75, Basic Red 51, Basic Orange 31, Basic Violet 16, 4-Hydroxypropylamino-3-Nitrophenol, Myristic Acid, Lauric Acid, Oleic Acid, Argania Spinosa Kernel Oil, Triethanolamine, Silica, Talc, Phenoxyethanol, Methylparaben, Ethylparaben.

G-LAM Clear Brow Gel - Ingredients:

Aqua, VP/VA Copolymer, Glycerin, Propylene Glycol, Carbomer, Phenoxyethanol, Aminomethyl Propanol, Aloe Barbadensis Leaf Juice, Panthenol, Ethylhexylglycerin, Sodium Benzoate, Potassium Sorbate, Citric Acid
Tint + Hold Bundle
Sale price

75.00 лв
Regular price
Choose options