Uncover the effortless path to bold and full brows with our visionary bundle: Henna & Hold!
Meet the Power Duo: ALL CAPS HENNA CAPSULES & HOLD UP!
Enter the world of effortless brow beauty with our Henna & Hold Bundle. Curated for fabulously fuss-free brows, it's time-saving elegance at its best!
Discover ALL CAPS Henna Capsules, your ultimate choice for enduring, natural-looking tint. Lasting up to 4 weeks, it's both tint and nourishment, fueling healthier brow growth.
Pair it with our TikTok sensation HOLD UP! Brow Wax. Your everyday brow companion for easy sculpting – flexible, non-sticky, and user-friendly.
The Henna & Hold Bundle streamlines your routine, ensuring hassle-free brows for a day of conquering goals.
Because we believe in less mirror time, and more making things happen.
With all the tools you'll need included in this bundle!
Dual Angled

Brush Pipette

Mini Finger Swiper
EVERYTHING YOU NEED
IN ONE SET
LASTS UP TO MONTH!
Color lasts up to 4 weeks depending on skin type
CREATES RICH AND NATURAL BROWS
Boosts your allure and turns heads all day.
WIDE RANGE OF SHADES
Matches for all hair colors and skin tones.
NATURAL INGREDIENTS NOURISH THE HAIR
Conditions brows, coats & protects hair follicles
IT'S MORE THAN JUST COLOR—IT'S BROW CARE!
GUIDE TO GETTING
THAT PERFECT SHADE!
We're always around and more than happy to help you on your brow journey!
For any questions or assistance, including color selection, don't hesitate to reach out to us in the following ways:
Send us a DM on Instagram @baebrow

Shoot an email to orders@baebrow.com

Or better yet, chat with us directly! Just click the chat button at the lower right corner of your screen for instant assistance.
GET THAT BOLD & BEAUTIFUL TINTED BROWS IN 10 MINUTES!
ALL CAPS HENNA CAPSULES ARE HERE TO REVOLUTIONIZE YOUR TINTING GAME.
No more salons, no more mess, just beautiful, lasting color. The future of DIY brow tinting is here – seize it!.
Always make sure to do a patch test first as our henna contains PPD (Para-Phenylenediamine) which for some can be an irritant.
Wondering about the right consistency for your henna mix?
Here's how to blend our ALL CAPS Henna Capsules to the perfect consistency - mix the powder well until all powder has been dissolved. It should be closer to a watery gel rather than a thick paste, perfect for easy application and optimal results. Follow along and nail that henna mix like a pro!
GLAM UP WHILE NURTURING YOUR BROWS!
Our henna capsules are formulated to promote healthy brow hair growth.
🌿 Henna nourishes your brow hairs to leave them softer, glossier, and more voluminous over time.
🌿 Amla strengthens your brows, adds a natural shine, and when mixed with henna, it intensifies the color for a richer, longer-lasting tint
🌿 Shikakai cleanses your brows and the skin beneath them, locks in moisture for a smoother henna application, and gives your brows an enviable gloss that lasts.
Henna Powder, Amla Powder, Shikakai Powder, Para Phenylenediamine, Para Aminophenol, Calcium Dioxide, Tartaric Acid, Magnesium Carbonate, Sodium Sulfite, and Soap Stone. (We recommend starting with a patch test to ensure you're not allergic to henna or PPD.)
THEN YOU'LL LOVE THESE TOO!
IT'S TIME TO REDEFINE YOUR BROW TINTING JOURNEY.
EXPERIENCE SIMPLICITY, PRECISION, AND LONG-LASTING COLOR.
Your journey to stunning brows starts here!
Unlock your brows' full potential with this bundle! Don't settle for less.
Elevate your brows with nourishing tints, customizable shaping, and quick fixes for lasting beauty. Experience the ease of DIY laminated brows for effortless elegance.
Don't wait - your best brows are just a click away!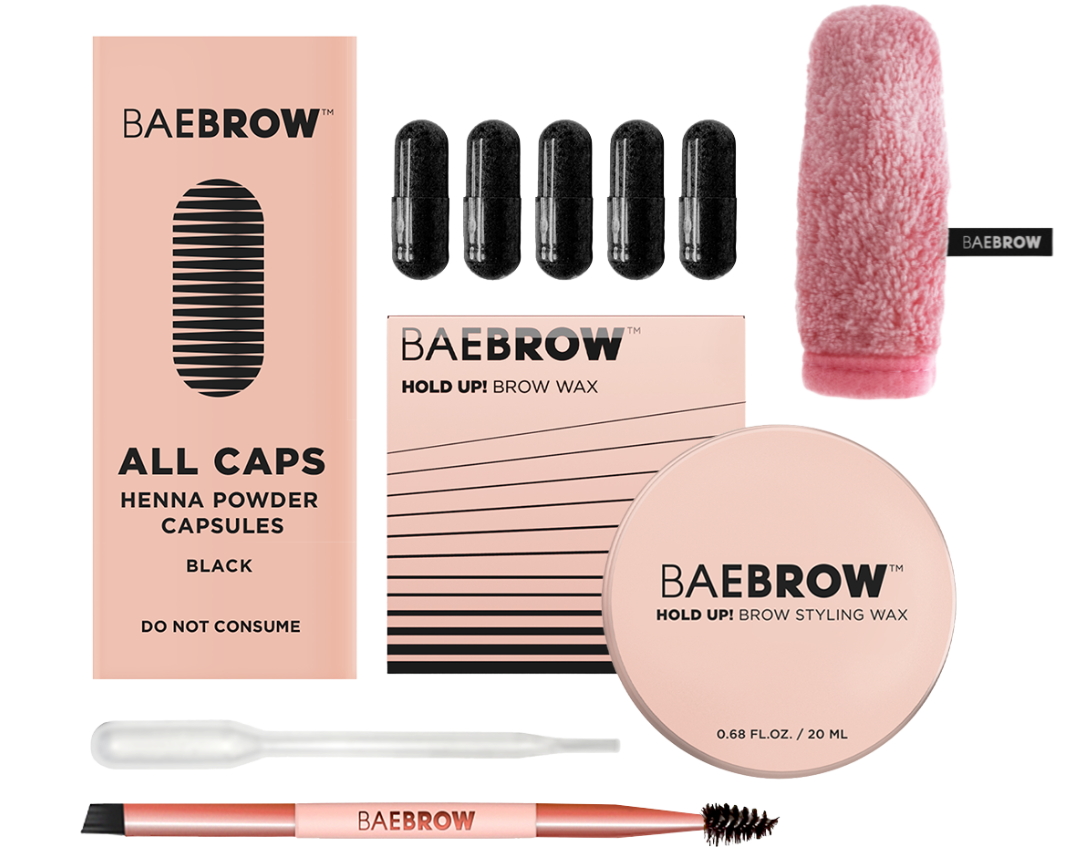 FREQUENTLY ASKED QUESTIONS